The Center for Media and Social Impact(CMSI) in National Central University was officially established on March 1th in order to "give voice to good deeds, and make good things happen"during the new media age, and send positive impacts to our society.

The President of NCU Jing-Yang, Chou, the Chairman Ming, Ou-Yang and the CEO Ping-Jung, Tang of Hope Media Foundation, the Legislator Xue-Sheng, Chen, the Deputy Director Chin-Chu, Chuang from Ministry of Health and Welfare, the Deputy Mayor of Taichung Y-Ying, Lin, the Director of the Department of Social Welfare of Taoyuan Tzu-Lung, Ku, the Dean of the School of Management at NCU Ping-Yu, Hsu, and the head of CMSI Cheng-Wen, Shen were all participating to the ceremony.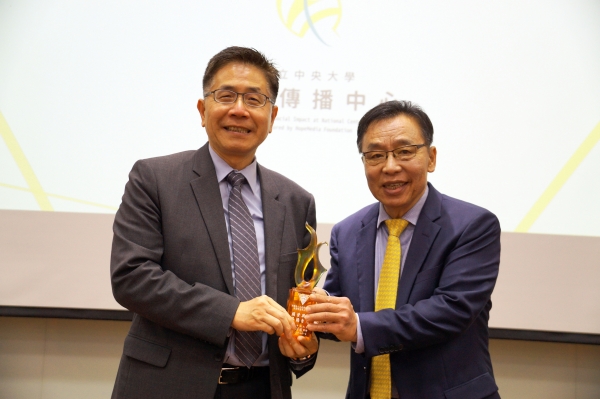 The Chairman Ming, Ou-Yang of Hope Media Foundation said that there are all kinds of communication media nowadays and that made the foundation need a systematic research and guide of communication media to spread their nonprofit behaviors efficiently. Therefore, he established CMSI to make the media spreading nonprofit behaviors have more influences to our society.

The head of CMSI Cheng-Wen, Shen pointed out that "give voice to good deeds, and make good things happen", "raise the impact of communication media", and "send positive impacts to our society" are the objects of CMSI. CMSI will endeavor to related researches and databases of Media and Social Impact in the future. And CMSI will share results of researches to our society, and hold press conferences and international forums every year. We hope that we can promote Media and Social Impact and Social Business through educations, and see raising civic literacy and making university social responsibility into practice as our duties.

The mission of CMSI in the future is to plough the field of nonprofit behaviors or NPOs by researching, teaching, and communication. And we will cooperate with NPOs, CSRs, governmental organizations, academias, and related international organizations to expand the social impact of the power of nonprofit behaviors.
Related Reports:
https://www.ettoday.net/news/20180301/1121949.htm
http://www.epochtimes.com/b5/18/3/1/n10181632.htm
https://udn.com/news/story/7324/3007887
http://www.nexttv.com.tw/news/realtime/lifestyle/12059322/privacy